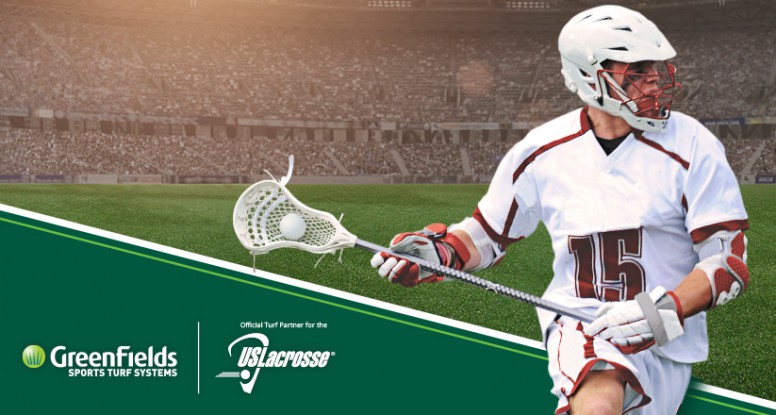 GreenFields Meets the Demands of Lacrosse, the Nation's Fastest Growing College Sport
The "fastest sport on two feet" is also the fastest growing sport among college campuses. According to US Lacrosse, the sport's national governing body, it has the highest growth rate of all NCAA divisions from 2000-2014. During that time period, participation in women's lacrosse increased 109 percent, and participation in men's lacrosse increased 95 percent. Between 2016 and 2018, new lacrosse programs are slated to start across 57 colleges.
With new players and new teams developing all over the country, lacrosse facilities are in high demand. Coaches and athletic directors are searching for an artificial turf solution that can withstand the intensity of high-level play. GreenFields meets that demand so well, they're the official turf partner of US Lacrosse. The two organizations have joined to support lacrosse teams and players across the country through event sponsorships, training and education. As the official partner, GreenFields has equipped US Lacrosse's new $15 million headquarters and training center in Sparks, MD. GreenFields is not only the preferred playing surface for Team USA practices and home games, it's also the turf used for national coach and official training, as well as international, college and high school games, and youth programs hosted by US Lacrosse.
GreenFields manager of lacrosse development, John Griffin, says, "The demand for high-quality, safe and durable playing surfaces for lacrosse in the US has increased significantly over recent years, and we're excited to help US Lacrosse meet this growing demand with some of the most innovative and reliable products in the industry." The US Lacrosse headquarters features state-of-the-art, 100 percent recyclable MX Trimension woven turf and woven Sine pad, along with a TPE infill, bringing the ultimate combination of safety and performance.
"We spent considerable time evaluating the product lines and brand fit of a number of synthetic turf manufacturers, and we concluded that GreenFields was an outstanding fit," said US Lacrosse CEO Steve Stenersen. "From innovation to performance to sustainability, their product lines stood out."
As the men's and women's US national team home field, the turf has to stand up to the demands of internationally competitive play. President of GreenFields USA, Guido Vliegen, emphasizes, "Everything we do at GreenFields is research driven. We strive to make products that perform well for elite athletes, regardless of the sport." The result of such extensive research is a field that maximizes the precision of control and roll of the ball, and enhances player agility.
For lacrosse specifically, GreenFields is leading innovation in athletic field technology, ensuring the lacrosse ball goes where the player wants it to while scooping, and allows players to pivot quickly and naturally. These features demonstrate why the top lacrosse organization in the country trusts GreenFields for their artificial turf needs. For more information about how GreenFields can benefit your lacrosse program, contact sales@greenfieldsusa.com.