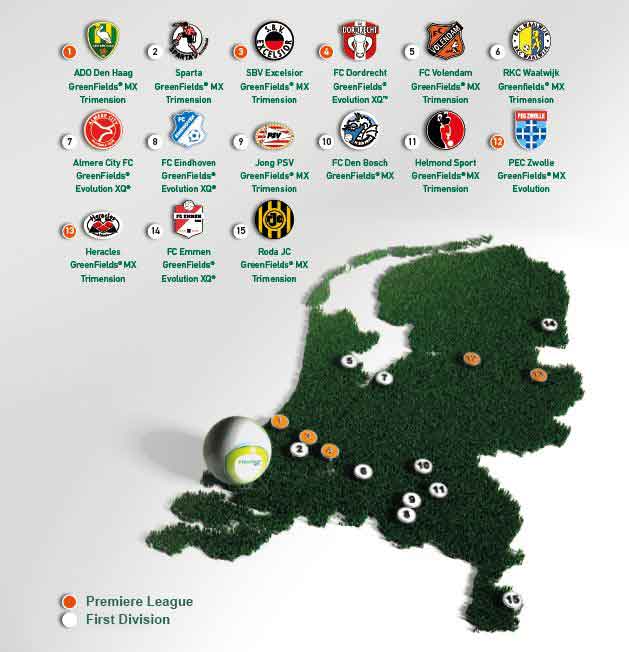 Dutch Professional Soccer Leagues Tout Benefits of GreenFields Turf
In recent years, the use of artificial turf in a wide variety of professional sports has increased considerably. The soccer community alone, once a champion of the benefits of natural grass for professional playing surfaces, is now acknowledging the benefits of synthetics, particularly those manufactured and installed by GreenFields. GreenFields Synthetic turf now in use in eighteen professional soccer venues.
Through their partnership with TenCate Grass, GreenFields continues its development of innovative, durable and increasingly safe synthetic grass products. This is in no small part why so many Dutch leagues are adopting artificial turf manufactured and installed by GreenFields.
The Dutch Premiere League and First Division Leagues represent the highest levels of professional soccer competition in the Netherlands. These FIFA-caliber athletes play on artificial turf and make up a majority percentage of the professional soccer venues in the Netherlands that now use artificial turf. The turf these clubs prefer is manufactured and installed exclusively by GreenFields.
The Dutch Premiere League has had synthetic turf installed in 18 of their venues as of this date.
"The decision to choose GreenFields MX was made after intense research with quality as the key criteria," said Peter Bijvelds, Director of FC Den Bosch.

Ready for the Future
One of the latest innovations in artificial turf is GreenFields MX. It is the preferred product for Dutch soccer owing in no small part to its natural look and feel, its consistency for ball roll direction, its low heat-retention and its low friction that both enhances game play and prevents injuries.
GreenFields MX is also among the most durable artificial turf products available today. That coupled with its low lifetime maintenance cost make it a worthy and cost-effective investment that can be maintained for years with minimal regular care.
The Switch to Synthetic
The GreenFields brand has proven to be a game-changing choice for clubs adopting or upgrading their playing fields with artificial turf. While natural grass had been the gold standard for years, the appeal in look, feel, cost and durability of synthetic turf is causing more sports organizations worldwide to make the switch.
The advent of GreenFields MX only adds to the appeal of synthetic turf.
"I never expected to become a fan of synthetic turf but now it has developed to such a high standard, I'm very excited about it", said Jan van Dijk, trainer at Helmond Sport.
Van Dijk went on to say that GreenFields turf also enhances the club's training efforts. "The field is perfectly smooth and as a result it is pleasant to train on. It's great that more and more soccer clubs in the Jupiler League are switching to synthetic turf," he said.