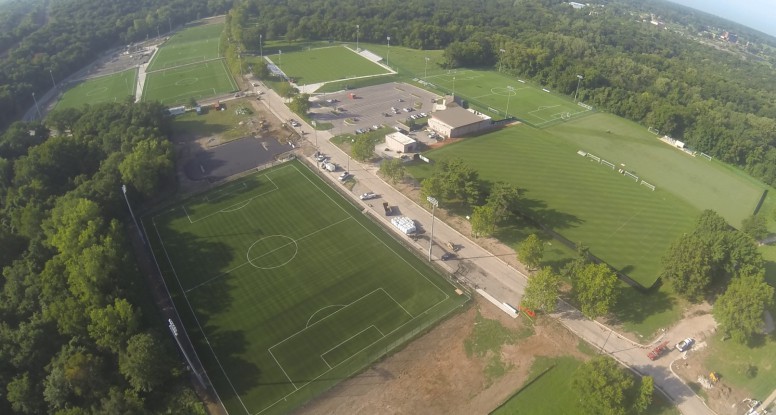 Sporting Kansas City opens SWOPE Soccer Village
Sporting Kansas City (Sporting KC) will be presenting the opening ceremony for their brand new SWOPE Soccer Village facility today at 4:30 PM. The field had its unofficial opening on September 5. The project represents a major expansion that includes six brand new fields that will serve as a state-of-the-art training center for Sporting KC.
Sporting KC is one of the most respected professional soccer franchises in the United States and is the current Major League Soccer champion, taking the MLS Cup in 2013. The project was awarded to Midwest Sports and Turf Systems, LLC, a partner of GreenFields – the leading supplier of artificial turf systems and holder of credentials with numerous professional sports organizations worldwide including FIFA. GreenFields has designed and installed more synthetic turf systems for FIFA than any other company and boasts over 2700 sports field installations worldwide.
We chose GreenFields because they are the clear world leader in synthetic turf for soccer," said Sporting KC Vice President of Development David Ficklin.
The product used in the construction of the new fields is GreenFields Slide Max XP50 – a turf product developed specifically for soccer play. GreenFields turf products have been shown to provide the most durable and safe synthetic playing surfaces of any comparable product in the industry. Their partnership with TenCate Grass positions them well as a world leading developer of increasingly resilient, durable and injury-reducing turf products anywhere in the world.
The new fields at SWOPE Soccer Village will be used by soccer players of every age and skill level from throughout Kansas City, as well as by their first team, according to Ficklin. "Sporting KC also takes pride in its focus on innovation," he said. "We want to set the benchmark for others to shoot for. This is true with our stadium and with the team." Ficklin went on to add that the inclusion of GreenFields turf products is one major component to the actualization of that goal.