Sine woven shock and drain pad
Jump, push off, make a sliding tackle and score. The technical playing qualities of artificial grass are determined by the composition of and the materials used in the entire system. GreenFields is a specialist in this area. Working closely with the TenCate group of materials technology companies, GreenFields designs and supplies integrated artificial grass systems.
By combining numerous technological innovations in one artificial grass system that consists of multiple integrated layers, sports associations and clubs can provide their top talents and enthusiastic amateurs with a safe, durable and affordable playing surface.
GreenFields – the choice of champions.
Solid shockpad
TenCate has designed an innovative new product, called TenCate Sine™, which provides shock absorption and drainage for high-quality artificial grass pitches. TenCate Sine™ is a sturdy module that is a few centimeters deep. It has an open weave structure and dozens of foam rings per square meter, which cushion and absorb the shocks from jumping, pushing off and making sliding tackles on the pitch. The underlay has optimal technical playing properties. It is exceptionally strong and stable, and helps prevent injuries. It also has sufficient "give", which optimizes the energy rebound when playing sports. The TenCate Sine™ shock pad reduces the surface wear on the pitch and extends the life span of the integrated artificial grass system.
The open structure of the firm underlay helps optimize the vertical and horizontal drainage of rainwater and sprinkler water, while ensuring effective evaporation from the subsurface. TenCate Sine™ enables GreenFields to create high-quality playing surfaces. 
Sine Woven Shock and Drain pad
Protecting the Planet and Players
Sine shockpad has optimal technical playing properties. It is exceptionally strong and stable, and helps prevent injuries. The shock pad reduces the surface wear on the pitch and extends the life span of the integrated artificial grass system with optimal horizontal and vertical drainage.
 TenCate Sine shockpad:
TenCate Sine® is a new innovative shockpad
Made of cross-linked closed cell polyethylene foam enhanced by a unique woven construction
Improved sports technical performances through woven loop construction
Excellent drainage properties in vertical and horizontal directions
Patented
Benefits Sine shockpad:
A unique new type of shock pad
Strength and stability of woven fabric
Insensitive to temperature, facilitates installation
Open void structure, ensuring drainage
Shock absorbency of closed cell
Improved, lower energy restitution
Improved biomechanics
Horizontal improved drainage
1 Source – Component for TenCate "Total Solutions"
---
Durable system construction
The technical playing properties and characteristics of artificial grass benefit from the optimal alignment and maximum integration of the different modules in the total system. In combination with TenCate Accorder™, a shallower, but more stable subsurface can be created.
Recyclable top layer
GreenFields® MX artificial grass was especially developed for soccer and it makes the top layer of the pitch completely recyclable. TenCate's advanced weaving technique keeps the tufts of artificial grass upright so they support the ball and easily allow players to get their feet underneath it.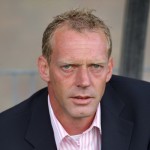 Peter van Vossen
Almere City FC
The Greenfields MX artificial grass pitch at Heracles Almelo (FC) is the best artificial grass pitch in the whole of the Netherlands, at this time!
The Sparta Dome is now home to soccer, softball, baseball, football, lacrosse, field hockey, frisbee football and more. All of our customers are blown away with the turf and they are thrilled that we chose to work with Greenfields due to the playing surface they now get to enjoy. The rental groups that we work with and our Sparta Program participants recognize the true advantage they have by playing & practicing here with us due to the Dome having the best turf surface in our area.
John Trask
Head men's soccer coach / University of Wisconsin
"We played one of our scheduled Spring games on the new turf at Rockford and I must say GreenFields has got it right with this new woven technology. There is a real noticeable improvement. Not only is it extremely natural looking but the ball roll and ball bounce play as close to natural grass as any artificial field I've seen. "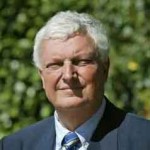 Rob Westerhof
Chairman Sparta Rotterdam
We want to tap new sources of income. With artificial turf we can use the Sparta Stadium far more intensively, and not just for soccer. This decision has been prompted by long-term thinking. It is also why the choice fell on the best artificial turf system currently available, GreenFields® MX with the TenCate Trimension™ fiber. We are a fantastic club, with a rich history and a unique stadium. We want to exude that feeling, that pride, from every Sparta pore again, including the young. Our artificial turf field is an investment in that future."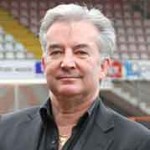 Wim Biesterveld
General Manager FC Volendam (Dutch Premier League)
With the new GreenFields ® MX field we are assured of the best possible conditions to play Soccer, throughout the year. That is good for the development of players, individually and in teams, and therefore good for the development and appearance of the club.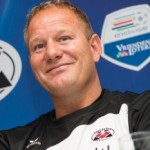 Jan de Jonge
Trainer Heracles Almelo - Dutch Premier League
We are very pleased with this high-quality artificial turf field. We can now train in our own stadium. Players can get their foot under the ball easily which enables them to kick perfectly. The ball speed and thus the game speed are much more consistent. The result is optimal ball and playing performance. "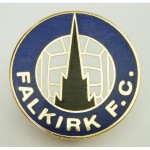 Ronnie Bateman
Director Falkirk FC
Our new pitch has been the subject of great praise from all who have played and seen it. Players, referees and spectators. Visiting clubs say it is a much better field than what they have seen elsewhere. Praise indeed!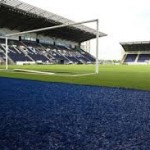 Bill Gillespie
PSD Scotland
The benefit of the woven product is the ability of the carpet pile to stand upright allowing the players to get their boot under the ball and the durability of the product due to the strength of the carpet – it is almost impossible to withdraw yarn from the pile. There are a combination of yarns used is carpet making it a much more comfortable surface for the players.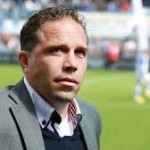 Art Langeler
Hoofd Jeugdopleiding PSV
This amazing product allows you to play four matches on Saturday, train every day under the same conditions and with many teams. Besides these benefits Greenfields MX has the appearance of a great professional field! Enough reasons for us to choose GreenFields turf! Football is based on old values but with modern and innovative approach. This field is a good exponent of that thought!