GreenFields Innovative Mindset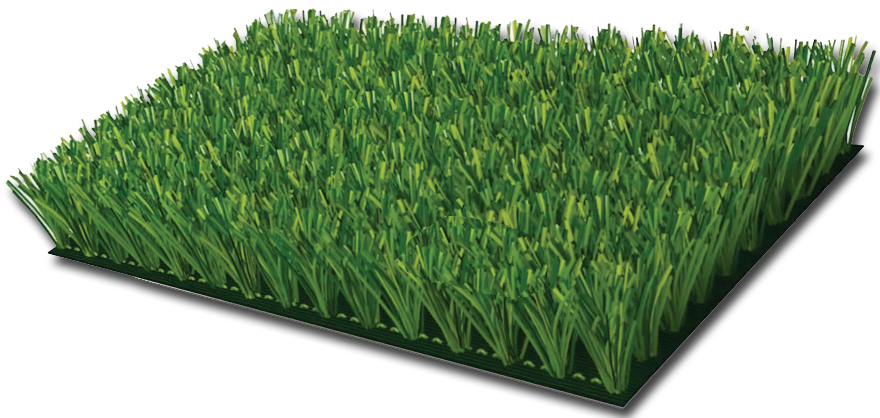 Over the years, we take a uniquely innovative approach to delivering the best synthetic turf systems on earth. That approach is inspired primarily by nature. Everything we produce is crafted to have the look and feel of things found in nature so the players and fans can all have the most positive experience using our artificial turf products. With that level of commitment, is it any wonder why GreenFields is quickly developing a reputation for being the leading artificial turf company in the world?
We provide the most technologically advanced and original portfolio of products on the market. Whether your new athletic field calls for Slide Max, GreenFields Evolution, or any of our woven products, you can be confident that the product you select is one that has challenged and expanded the boundaries of quality gameplay and performance for a countless number of athletes around the world.
"Innovation Inspired By Nature" isn't merely a slogan. It represents our passion for developing the most natural-looking artificial turf in the world. Our unwavering commitment to being the best at what we do and always moving forward is elevating GreenFields to the very pinnacle of world-class sports. It is the cornerstone of our past, present and future success as an artificial turf company.
GreenFields Products
Select one for more information:
Innovation for more natural gameplay
One glowing example of GreenFields innovation is our woven GreenFields MX technology synthetic turf product. Our W-Weave technology is patented and unrivaled by any other synthetic turf product currently on the market. What sets it apart is its ability to provide players with the best possible experience, its amazingly natural appearance and feel and its 100% recyclability.
There are no chemical adhesives and no glues holding the tufts in place. Our W-Weave method effectively eliminates the need for these things entirely. W-Weave is a bona fide industry first; its quality and sustainability speak volumes about GreenFields' commitment to the concept of "Inspired By Nature."
Benefits of choosing GreenFields
With GreenFields, you work with a company whose people apply the same high standards when building a community soccer or baseball field as they do when constructing massive stadiums for organizations like FIFA and FIH.
Our products are designed to bring out the very best in all your players and make the game exciting for their fans. Best of all, when you hire GreenFields to design and build your artificial turf system, you are also providing your players the opportunity to play on a surface that is designed to provide the most safe and most predictable gameplay conditions possible regardless of circumstance and through any weather condition.
You are also investing in a 100% recyclable turf product that is manufactured with the single lowest environmental impact of any synthetic turf manufacturing process anywhere else on Earth.
Innovative Technology to lower temperatures
GreenFields has made impressive strides in lowering field temperatures through the use of heat reflective technologies for the turf fibers and infill. Other kinds of artificial turf get extremely hot on sunny days. This can impede player performance significantly. Through our partnership with TenCate Grass, we are able to provide artificial turf products that possess superior properties for reflecting heat. This keeps the playing surface cool and provides a comfortable gameplay environment for players. TenCate products with Heat Resistance (HR) technology show temperature reductions of as much as 17.5° F.
Demand for durable synthetic turf products that conserve water is increasing in the international market. To meet that demand, we have developed GreenSource: a combination of artificial turf and advanced technology in water treatment. It decreases reliance on potable water and increases water management effectiveness for landscapes and sports complexes that use synthetic turf systems. GreenSource is most effective where water shortage is a common issue or when only non-potable water is available to use for irrigation.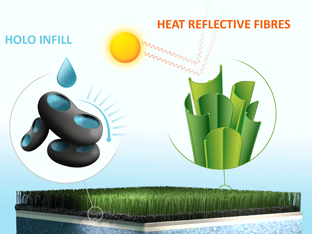 Water is the solution – GreenSource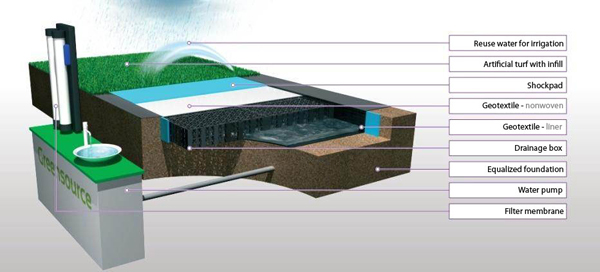 There is an increasing demand within the international market for durable products that also conserve water. GreenSource is a combination of synthetic turf and water treatment technology that decreases reliance on drinking water and increases the effectiveness of water management for both sports complexes and landscaping that are based on synthetic turf systems. It is most effective in areas where water shortages are common or when only polluted water is available for irrigation.
The GreenFields GreenSource project helps to ensure proper water management irrespective of  source. It combines artificial turf with Pentair X-Flow water treatment technology. Water gets collected, treated, and used to spray artificial turf fields and irrigate the terrain. The treated water is also made  potable and safe for consumption by the local population.
Part of TenCate
Materials that make the difference
The materials and products from TenCate Grass are developed based on a keen understanding of sports play and the experiences of coaches, trainers, and players at professional and recreational levels. The experts at TenCate Grass conduct extensive research, develop innovative fiber and fabric technologies along with the many components that make up artificial turf sports systems.